- Ecology Science Fair
January 29, 2022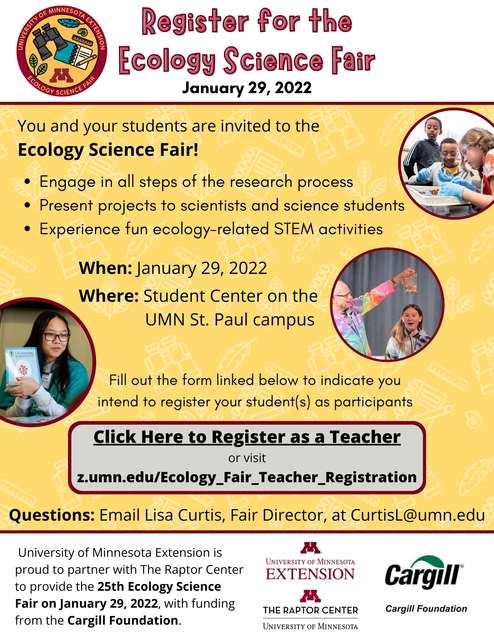 The Ecology Science Fair centers on student-driven investigations in ecology, encouraging students to engage in all steps of the research process, including the important final step of data presentation. University of Minnesota Extension is proud to partner with The Raptor Center to host the 25th annual Ecology Science Fair, with funding from the Cargill Foundation.
The Ecology Science Fair provides a forum for elementary, middle school and high school students to present their research. Students conduct research where they are at—whether at school, a local park, or at home—and then share their findings with other students, teachers and scientists in this annual celebration of student achievement in ecology.
Students share their research by presenting their project and answering interview questions from a scientist. They may also attend breakout sessions that include fun ecology-related STEM presentations.
The Ecology Science Fair will be held on the University of Minnesota St. Paul campus in the St. Paul Student Center, 2017 Buford Avenue, on Saturday, January 29, 2022.