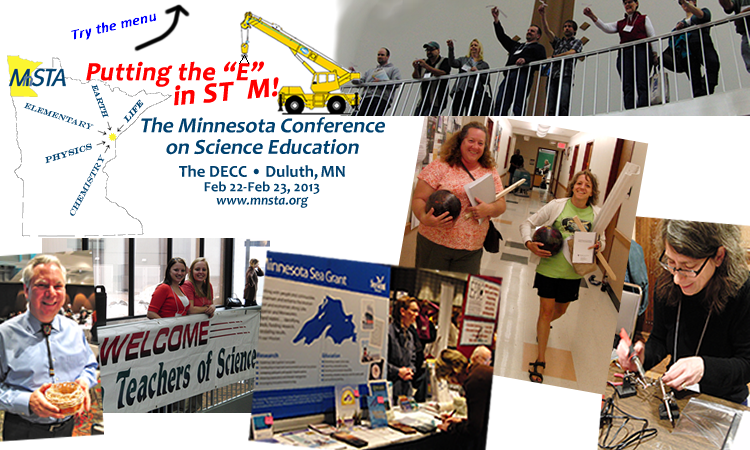 2013 Minnesota Conference on Science Education
8:00 AM Feb 22 - 1:00 PM Feb 23, 2013
Use the links in the table below...or the red buttons at the bottom of this page to register!!
Plan to join us in Duluth, Minnesota for our annual Minnesota Conference On Science Education.  MnCOSE is our premiere professional development event that brings Minnesota science education professionals together for sharing and growth!
Our MnCOSE 2013 registration fee structure is listed below.
Register with the "register now" buttons at the bottom of this page when each becomes available.
Conference presenters will receive a code to use to access their special registration rate.
You must be a MnSTA member to register.  As a result, your conference registration will be associated with your membership information in our system.  If you're not currently a member, you can become a member now by joining with our
membership form
! As soon as you have setup your new membership, you're welcome to use your new login information to register for MnCOSE!
Do you have questions about our MnCOSE event?  Please contact one of these people from our MnCOSE Team:
Presenters -  Kari, 
Exhibitors - John, 
Financial/Registration - Joe, 
Web Systems - Conference Manager - Eric, 
Conference Coordinator - Jean, 
We accept payment both by credit card and by check.  Credit card payments are made through our secure site at the time of the transaction.  For payments to be made by check, an invoice is issued at the time of the transaction.  For all check payments, please include a copy of the invoice with the check.
To qualify for the early registration rate, check and or school voucher payments must be RECEIVED at MnSTA by the early registration deadline of January 31, 2013.  Payments not received by this deadline will be charged at the Regular Registration Rate.   Thank you!
We're excited to see you in Duluth!

Did you know...this will be our second MnCOSE event in Duluth in two years?  Yep!  And then watch for us back in Mankato for MnCOSE 2014 and 2015!
Individual refunds will not be available.
Registration
ERROR: "MnCOSE17_Exhibitors.html" not found
ERROR: "2014_MnCOSE_Lodging.html" not found