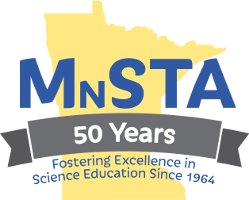 MTSA → MSTA → MnSTA — 49th Birthday
A Brief History By Fred Riehm, MSTA Member since 1964,
Life Member since 1990, MAS Member since 1957,
with help from Ted Molitor, an MSTA founder, continuous Member since 1964.
In 1953, a Minnesota Teachers of Science Association (MTSA) was formed by Science Education professors at the University of Minnesota plus some others, and adopted a constitution. It soon died.
In summer 1963, a committee of Science Teachers met for 3 days at Chuck Anderson's lake cottage near Grand Rapids MN. They were Chuck Anderson of Norwood-Young America, Newell Smeby of Worthington, Denny Dvergsten and Ted Molitor of Roseville, Walt Larson and Dick Myshak of MN Academy of Science (MAS), MN State Science Consultant Bob Collins, and, probably, John Lokensgaard of Hopkins. They made a Science presentation at the Fall Teachers' Conferences that October. They met further during the 1963—64 school year and drew up an MSTA Constitution and ByLaws.
On Friday, October 23, 1964, an abbreviated MSTA program was given to science teachers during the Fall Teachers' Conferences. They then adopted a constitution forming the Minnesota Science Teachers Association. An expanded MSTA program was held during the 1965 Fall Teachers' Conferences. MSTA was affiliated with the MAS, shared office space with MAS at 3100 38th Avenue South, Minneapolis, and, in fact, was a "division" of MAS. MSTA's interim President was Newell Smeby, Rochester. Denneth Dvergsten, Roseville, was 1st President; John R Crocker, Mpls, Executive Secretary; Robert Collins, MN State Science Consultant, was also TC Region Rep, along with Region Reps for Southwest, Southeast, Central and Northern. A Western Rep was added in 1966.
By the way, the MN State Science Consultant is the only individual specified to be on the MSTA/MnSTA Board, starting from the original Constitution/ByLaws through the current one!!!
Region meetings (combined) were set for fall 1965 and a state—wide meeting for fail 1966.
The first full—scale MSTA Convention was held Friday, October 21, 1966, Cooper High School, New Hope MN, 8:00-4:00. The luncheon (price $2.75 for Lunch & Registration) included 1/4 chicken or fresh shrimp creole, oven brown roasted potatoes, carrots & peas, fresh dinner roll, cole slaw cup, devil's food cake, and coffee or milk. There were 3 tours ($1/tour) available from 2:00-4:00 pm, and a Mobile Science Laboratory Display was available for viewing from 8:00-4:00. Four quarterly MSTA Newsletters were mailed to every Science Teacher on record in the state that school year. No dues for membership. Membership in MAS was highly encouraged.
Bob Collins resigned as State Science Consultant in August 1967. Dick (Richard) Clark became State Science Consultant in 1968. M.l. (Buzz) Harrigan (Colonel/ USAF, Retired) became MAS Executive Director in 1968. He also was MSTA Executive Secretary. By that time, MSTA used MAS's same 8 Regions. MAS collected dues for MSTA, paid expenses for MSTA, and printed & mailed the MSTA Newsletter. MSTA Board meetings were held 6 times per year at Fort Snelling Club. In 1986, MSTA's membership had significantly exceeded MAS's, so MAS suggested that MSTA incorporate separately (a friendly spinoff).
A new Constitution was adopted May 13, 1987. MSTA incorporated as a non-profit, tax-exempt corporation with the MN Secretary of State July 10, 1987, and received 501 (c)(6), non-profit "professional association", status with the IRS in January, 1988. Doris Johnson was the first Executive Secretary of the newly independent MSTA, effective September, 1987.
When Ed Hessler and Fred Riehm found by talking to an lRS non—profit "expert" in January, 1997, that the "Objects" in our Constitution were "self-serving" (and had been since 1953 and 1964), the Constitution was "re—stated" to its present form and adopted by the MSTA Board in April, 1997. "Restated" papers were filed with MN Secretary of State on May 9, 1997. Based on IRS Guidelines and a Form 1023 filed in July 1997, the IRS gave MSTA a 501 (c)(3) Non-profit, Educational, Charitable classification effective August 4, 1997. The revised Constitution was approved by the MSTA Membership at the Fall Conference/ Annual Meeting, October 17, 1997. The acronym was changed to MnSTA in Summer 1998 (MN is one of 8 "M" states.)
Therefore, MSTA/MnSTA celebrated a 40th birthday on October 23, 2014.
---