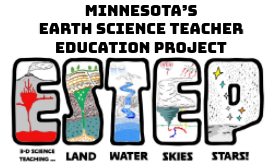 Registration for Spring and Summer 2024 Online Courses are OPEN!
Want to register? Contact Sue Bertch at the MSU Moorhead Registrar's Office via email (susan.bertsch@mnstate.edu).  Include which courses you wish to register for, and she will send you instructions for how to register for these FREE, 3 graduate credit courses!  Please read below to see requirements and details.
Middle School (6th grade) Teachers! Dive in and improve your content and pedagogy knowledge in these key earth and space science areas!  Our courses are designed for TEACHERS and will be invaluable as you develop your course, and begin working on transitioning to a student sense-making approach!
High School Teachers!  GET READY!  New legislation states that all students must complete one credit of Earth and Space science in high school to graduate.  These courses will help deepen your understanding of the key content areas and 3-dimensional pedagogy.  Along with our summer bootcamps, these courses will help those of you working toward passing the required content MTLE exam to add additional licensure in 9-12 Earth and Space Science.
Spring 2024 Offerings (Courses run January 8 - May 8 2024)
GEOS 599: MN Rocks/Natural Resources for ESTEP Teachers (synchronous meeting dates/times: Feb 10 2024 from 9-11 am, and Mar 23 OR Apr 6 from 9 am - 12 pm)
GEOS 599: Earth Science Essentials I (for synchronous meeting times, please email Dr. Colson at colson@minnstate.edu)
GEOS 599: Teaching and Learning Earth Science in 3D for ESTEP Teachers (as this is a pedagogy course, synchronous meeting times will be determined together as the course goes along - one evening a month, and 2 Saturday mornings)
Summer 2024 Course Offerings (Courses run May 15 - July 10 2024)
GEOS 599: Earth Systems Science for ESTEP
Teachers
 (synchronous meeting dates/times: June 8 2024 from 9-11 am)
*ESTEP Summer Boot Camp registration is separate from online course registration.  
 The Important Details
These courses are offered through the Continuing Studies Department at Minnesota State University Moorhead.  Each 3-credit graduate level course is facilitated by expert instructors who are leaders in their fields and based in Minnesota at NO COST to you!  
*Please note that these are 3 credit, graduate level courses, and while mostly asynchronous, each require approximately 4-6 hours of work per week, including a required final Pedagogy assignment in all content courses.
+All ESTEP online courses EXCEPT Teaching and Learning Earth Science in 3D for ESTEP Teachers have TWO required synchronous virtual meetings on two scheduled Saturdays from 9:00 am - 12:00 pm.  
**Teaching and Learning Earth Science in 3D is a pedagogy and methods course.  This course will meet synchronously on a more frequent basis (two weekday evenings per month + one Saturday morning - 9:00 am - 12:00 pm - per month).  These meetings are required.
Note: ALL online courses are designated as blended.  This means that the courses are offered in an asynchronous style, with scheduled assignment turn in dates and assessments, AND there will also be REQUIRED synchronous online meeting times per course.  In order to earn a passing grade and credit for the course, participants MUST commit to both asynchronous AND synchronous requirements.  A final pedagogy assignment is also required for all content courses.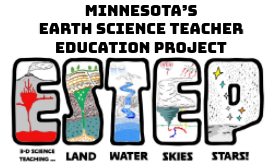 The Earth Science Teacher Education Project, or ESTEP, is a professional development program for 6th grade and high school earth and space science teachers.  Our goal is to facilitate and model best practices in content and three-dimensional teaching strategies so that MN teachers can become practitioners of these new standards and create an environment of investigation and discovery in their classrooms.   Graduate credit for all summer bootcamps and online courses are available to participants for FREE (there may be a nominal registration fee for each course/camp; lodging and other expenses are not covered by the grant).  Additionally, participation in ESTEP can help prepare currently licensed high school science teachers to obtain an additional licensure in 9-12 Earth and Space Science through MTLE testing.   
Link to Troubleshooting for Online Courses and Access to D2L 
New to ESTEP?  Want to learn more?  Check us out  HERE!
Funding for this project was provided by the Minnesota Environment and Natural Resources Trust Fund as recommended by the Legislative-Citizen Commission on Minnesota Resources (LCCMR).