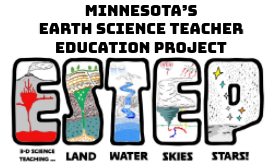 ESTEP FALL 2023 Online Course Registration is OPEN! 
Middle School Teachers! Dive in and improve your content knowledge in these key earth and space science areas!
High School Teachers!  These content courses will help deepen your understanding of these two content areas just in time for you to participate in Summer 2024 ESTEP Meteorology and Summer 2025 ESTEP Astronomy bootcamps, as well as help those working toward passing the 9-12 Earth and Space Science MTLE exam for additional licensure.
GEOS 599: Astronomy for ESTEP Teachers
GEOS 599: ESTEP Introduction to Our Atmosphere (Meteorology)
and a brand new addition to our programming...
GEOS 599: Teaching and Learning Earth Science in 3D for ESTEP Teachers
Here's the course description: 
Teaching and Learning Earth Science in 3D gets in-service teachers directly involved in making sane shifts to their current strategies, in order to get students immersed in the real practices and cross-cutting concepts of science, as well as the content.  This course will be a blend of synchronous, and asynchronous learning, in order to facilitate practice and discussion in a manner that will be of immediate use to teachers in the classroom, but will also give an eye to long-term methods to make science learning cohesive and real. Teachers will develop a storyline on an Earth Science topic of their choice as a part of the course, with ample time and support to make it realistic and valuable for their students.
 The Important Details
These three courses are offered through the Continuing Studies Department at Minnesota State University Moorhead.  Each 3-credit graduate level course is facilitated by expert instructors who are leaders in their fields and based in Minnesota at NO COST to you!  Courses run August 21 - December 15 2023.  
*Please note that these are 3 credit, graduate level courses, and while mostly asynchronous, each require approximately 4-6 hours of work per week, including a required final Pedagogy assignment in all content courses.
+Astronomy for ESTEP Teachers and ESTEP Introduction to Our Atmosphere (Meteorology) include TWO required synchronous virtual meetings on two scheduled Saturdays from 9:00 am - 12:00 pm.  
**Teaching and Learning Earth Science in 3D is a pedagogy and methods course.  This course will meet synchronously on a more frequent basis (two weekday evenings per month + one Saturday morning - 9:00 am - 12:00 pm - per month).  These meetings are required.
Ready to register?  Contact Sue Bertsch via email at susan.bertsch@mnstate.edu.  In your email, indicate the course(s) you wish to take.  She will then reach out to you via email with registration instructions specific to the ESTEP program.
Note: ALL online courses are designated as blended.  This means that the courses are offered in an asynchronous style, with scheduled assignment turn in dates and assessments, AND there will also be REQUIRED synchronous online meeting times per course.  In order to earn a passing grade and credit for the course, participants MUST commit to both asynchronous AND synchronous requirements.  A final pedagogy assignment is also required for all content courses.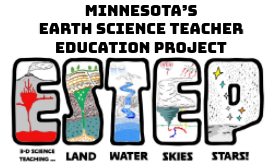 The Earth Science Teacher Education Project, or ESTEP, is a professional development program for 6th grade and high school earth and space science teachers.  Our goal is to facilitate and model best practices in content and three-dimensional teaching strategies so that MN teachers can become practitioners of these new standards and create an environment of investigation and discovery in their classrooms.   Graduate credit for all summer bootcamps and online courses are available to participants for FREE (there may be a nominal registration fee for each course/camp; lodging and other expenses are not covered by the grant).  Additionally, participation in ESTEP can help prepare currently licensed high school science teachers to obtain an additional licensure in 9-12 Earth and Space Science through MTLE testing.   
Link to Troubleshooting for Online Courses and Access to D2L 
New to ESTEP?  Want to learn more?  Check us out  HERE!
Funding for this project was provided by the Minnesota Environment and Natural Resources Trust Fund as recommended by the Legislative-Citizen Commission on Minnesota Resources (LCCMR).