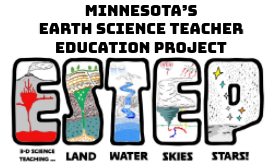 Spring 2023 Registration is CLOSED!
Both courses are FULL!
Please keep an eye on your email for information regarding summer and fall online course registration AND ESTEP summer boot camp registration!
SPRING 2023 ESTEP Online Course Registration
 Registration for ESTEP Astronomy and Meteorology courses is now open!  Courses begin January 9, 2023!
Please download the directions for registering for ESTEP online courses document to learn how to register for Astronomy for Educators and/or Introduction to Our Atmosphere (Meteorology)!  
New to ESTEP?  Want to learn more?  Check us out  HERE!
Funding for this project was provided by the Minnesota Environment and Natural Resources Trust Fund as recommended by the Legislative-Citizen Commission on Minnesota Resources (LCCMR).