Exhibit at the great Minnesota Science Educators get-back-together!
- at a Great Lake

Duluth, November 3-5, 2022  (Exhibits on Nov. 4)
We are thrilled with the participation of exhibitors for MnCOSE22!  We have now closed exhibitor registration!  Please contact  with questions.
After two years of virtual conferences, Minnesota science educators are excited to have in-person interaction with science and STEM teaching ideas. And what a great place to gather, on the shores of Lake Superior. The venue will be the Duluth Entertainment and Convention Center (DECC) which is close to restaurants, hotels, tourist shopping, the big-ship harbor entrance, and the Great Lakes Aquarium. 
Teachers will be eager to learn about the resources that your organization can provide as they prepare to implement new Minnesota Science Standards (full implementation by 2024-25). Many will be selecting new science instructional materials, looking for field trip locations, and seeking professional learning opportunities. Usually 200 - 400 teachers, administrators, college professors, and informal educators attend this annual Minnesota Science Teachers Association conference. You will be able to display your resources, present vendor sessions, provide or sell items, contribute door prizes, and publish ads in the conference program app and website. The conference app that will allow exhibitors to upload promotions and generate leads from visitors by scanning their name tags or digital devices.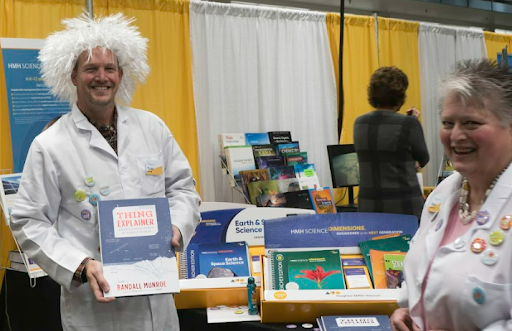 The DECC exhibition hall provides full exhibit amenities and is close to session activities and the location of the keynote speaker and lunch. We will provide a digital exhibit passport as an incentive to have participants visit multiple exhibits. You will have the option to access the participant email list. Full details and specifications are available at:  bit.ly/ExhibitMnCOSE22
MnCOSE 2022 can be found at www.mnsta.org. 
Detailed Exhibitor specifications are available here.
Watch for the conference program as it evolves.
Choose from two exhibit options



Exhibitor

Includes an 8 x 10 exhibit space,
Friday 7:30 AM - 3:30 PM
Includes a virtual exhibit space in our conference app




Exhibitor/Presenter

Includes an an 8 x 10 exhibit space
Includes a virtual exhibit space in our conference app
A 50 minute Conference Session
(scheduled by MnCOSE into the event agenda)

 
Pricing:
| | | |
| --- | --- | --- |
|   | Commercial | Non Profit |
| Exhibitor | $350 | $200 |
| Exhibitor/Presenter | $600 | $300 |
| Conference Sponsor | $1,200 | $1,200 |
registration after October 1, add a $50 fee
Add à la carte items to any of these options!
Consider Becoming a Conference Sponsor!
MnCOSE 2022 Sponsor - $1,200
Includes an an 8 x 10 exhibit space
Includes a virtual exhibit space in our conference app
Two 50 minute Conference Sessions
Email list of attendees (after the conference)
One banner ad in the MnCOSE22 app and website
FULL page color ad in MnSTA Fall Quarterly Digital Newsletter
Identification as a sponsor with logo in all event promo emails
*Additional à la carte items available for purchase
Option

Description

Commercial

Non Profit

Conference Session

50 minute presentation on the event program. Limited to two.
(scheduled by MnCOSE into the event agenda)

$250

$100

Email Blast

MnSTA will send your HTML or text email to all registered attendees on Oct 15th - two weeks prior to the event.

$100 each

$50 each

Email List of Attendees

Listing of attendees by name and email provided after the event
(participants may opt-out of list at registration)

$300

$150
Conference Sponsors

Questions can be addressed to John Olson, Exhibits Coordinator,
at , 612-801-1490 

Exhibitor Specifications • Exhibitor Shipping Directions
*The NGSS Mobius Strip Logo is a registered trademark of WestEd. Neither WestEd nor the lead states and partners that developed the Next Generation Science Standards were involved in the production of this product, and do not endorse it.