ESTEP Earth Science Professional Development
Professional Development for Teachers of the New 6th grade Science Standards
Coming Summer 2021!
By Dana Smith, dana_smith@isd31.net 
ES-TEP Interest Survey  Grab a flyer now
Read more here  
6th Grade Boot Camp Application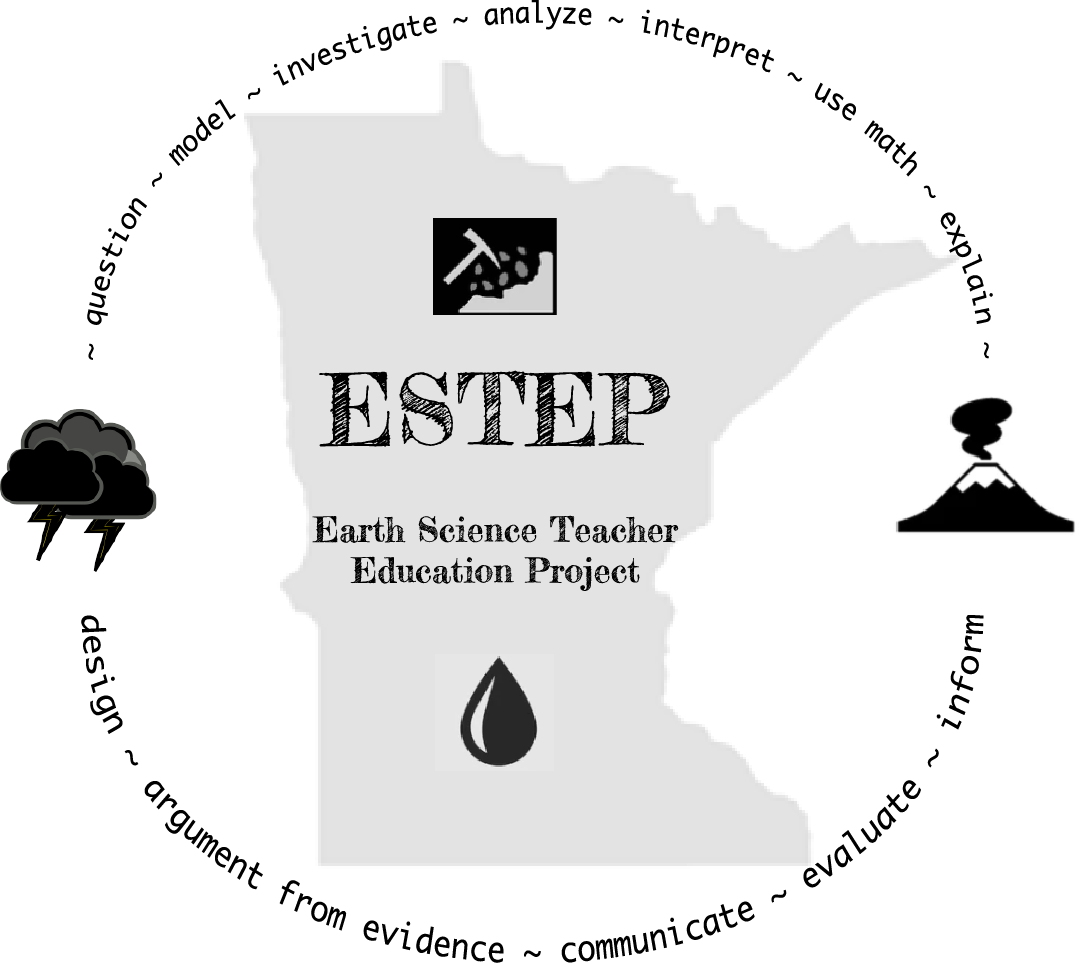 Happening in TWO Locations this Summer!
July 26-30, 2021
Bemidji Middle School
Bemidji, MN

August 2-6, 2021
Metro Area
(site TBD)
COST: ***$390.00 (8 hour days, does not include lunch, transportation or housing)
The ESTEP 6th grade professional development will be a one week, bootcamp style, regional (think...stay close to home and use place-based phenomena in your classroom) workshop that incorporates earth and space science content as well as teach you how to develop three-dimensional units.  We'll help you choose phenomena, write storylines and lessons, and walk you through investigations that you can use as a jumping-off point in your transition to the new standards.  We will also provide ongoing support as you begin your journey, and create regional cohorts so that you aren't doing it alone. 
MnSTA/ESTEP Diversity, Equity and Inclusion Statement
We are committed to reflecting the diversity of Minnesota educators that participate in our programs.   We are especially focused on teachers of BIPOC and underrepresented populations, alternatively licensed educators, and educational assistants working toward licensure. 
COST***We are working RIGHT NOW to secure legislative funding for this program so that we can offer ES-TEP programs to educators across Minnesota!  Our goal is to fund as much of the program as possible and make ES-TEP accessible and affordable.  Our goal is to offer these workshops in summer 2021, and depending on funding, offering up to 11 more over the next 3 summers! We will move all over the state, so we are sure to have a workshop near you! 
As the legislative session progresses, we will keep you updated via the MnSTA website and social media pages.  Please make sure to watch for them!