MN Codes Summit
May 14, 2018
<div>
MN Codes Summit
Registration is now open for the MNCodes Summit happening on Monday, May 14, 2018! The theme of this year's Summit is: Equity: Empowering All Learners Through Code! #CS4All #MNCodes.
Join us for a day of hands-on sessions that explore ways to empower all learners through computer science and coding education, with a focus on equitable practices across a variety of curricular areas, K-12.
Click here to register!  Early bird registration is open through April 14th and includes a parking voucher and a free Summit t-shirt.  We are also accepting session proposals through April 6th at 5pm.  We look forward to seeing you at the 2018 MNCodes Summit!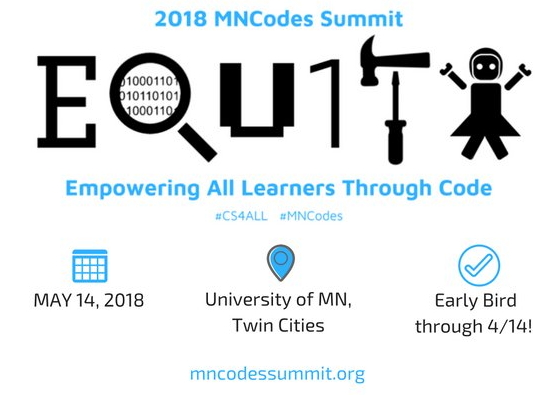 </div>