Preparing for New Minnesota Science Standards 
John Olson, Minnesota Department of Education Science Specialist and colleagues are writing a series of articles for the MnSTA newsletter in preparation for the review of the science standards in 2018-19. They are including ideas about science learning and teaching that have come from research and teaching experience, which will influence the writing and implementation of our next science standards.
The tentative sequence is:
What new ideas about science instruction might guide our next science standards?
What new ideas about science assessment might guide our next science standards?
For further information see the MN Dept. of Education standards webpage or contact john.c.olson@state.mn.us
---
What new ideas about science learning might guide our next science standards?
This is the third in a series of articles providing background for the review of Minnesota's science standards in 2018-19. The previous articles are archived at the Minn. Dept. of Education page on the MnSTA Website.
When the Minnesota Science Standards Review Committee meets in 2018-19, they will first look at feedback about our current 2009 standards and then look at current research on science learning and science standards before starting on any revisions. Research over the past dozen years has provide several new ideas about science learning that were summarized in a document that was written to lay the foundation for national science standards.
A Framework for K-12 Science Education (2012) was prepared by the National Research Council using leaders in science content, learning sciences and science instruction. This document provided the foundation for nearly all the states that have adopted new standards the last three years and the Next Generation Science Standards. Here are some of it's major findings about student learning.
Children are born investigators
Children starting school are surprisingly competent. They already have substantial knowledge of the world. They are not concrete and simplistic thinkers and can use a wide range of reasoning processes that form scientific thinking. It is important to build on and refine prior concepts to develop increasingly more sophisticated explanations of natural phenomena.
Focusing on core ideas and Practices
There should be a focus on a limited set of core ideas and an avoidance of a coverage of multiple disconnected topics. The core ideas provide structure for adding new understandings over time.
Understanding develops over time
Learning difficult ideas takes time and often comes together as students work on a sequence of tasks that encourage them to synthesize ideas. We should focus on important core ideas and develop learning sequences (called learning progressions) that build the learning from simple ideas to more broad explanations over several years.
Science and engineering require both knowledge and skills
Science is both a body of knowledge about the world and the set of practices that develop that knowledge. Scientists and engineers use a variety of methods and sequences in their work. Our students should develop practices that include investigating, designing solutions, analyzing evidence and constructing arguments.
Connecting to students' interests and experiences
A rich science education captures the students' curiosity about the world and their interest in learning science. Instruction should be relevant to their daily lives and also prepare them for later education and careers.
Promoting Equity
Students must have equitable access to quality instruction, materials, time for learning and teachers. Instruction should recognize the diverse customs and orientations of different cultural communities as an asset for science learning and should value multiple modes of expression.
I recommend studying the Framework and starting to use its ideas as supports for improving instruction for our current Minnesota science standards and as a preparation for possible changes in the standards in 2019. The Framework and several reports on which it was based are available as free downloads at www.nap.edu. I also recommend How Students Learn Science in the Classroom (2005) and Taking Science to School (2007) from the same site for a deeper look at ideas about science learning.
---
Getting Ready for New Science Standards
With this edition of the MnSTA newsletter, we are following-up the winter edition and developing a series of articles about preparations for the next Minnesota science standards. My colleagues at MDE and I plan to share ideas about science learning and teaching that have come from research and teaching experience, which might influence the writing and implementation of our next science standards.
The tentative sequence is:
When will we get new standards and will we adopt national standards? (winter 2016)
What are science teachers saying about our current science standards? (spring 2017)
What new ideas about science learning might guide our next science standards?
What new ideas about science instruction might guide our next science standards?
What new ideas about science assessment might guide our next science standards?
---------------------------------------------------------------------------------
What are science teachers saying about our current science standards?
During the 2015-16 school year, MnSTA held regional meetings where teachers came together to give feedback about the current (2009) Minnesota science standards. Minn. Dept. of Education science staff (John Olson, Doug Paulson, Jim Wood and Dawn Cameron) facilitated at least 10 sessions. The 525 participants completed an online survey in which they gave their impressions of how the current science standards are being implemented.
If did not attend one of the meetings, we invite you to complete the survey. Now would be a good time to take 10 minutes to complete the survey at this link before reading the rest of the article.
As we look at the data from the survey we must realize that the responses are from teachers that chose to come to a regional meeting of science teachers. They are probably not representative of the whole science teaching population, but they are valuable for comparison purposes. A section of the survey asks the participants to state the degree to which they agreed or disagreed with a statement. Notice that the participants are giving their perception of what other teachers are doing.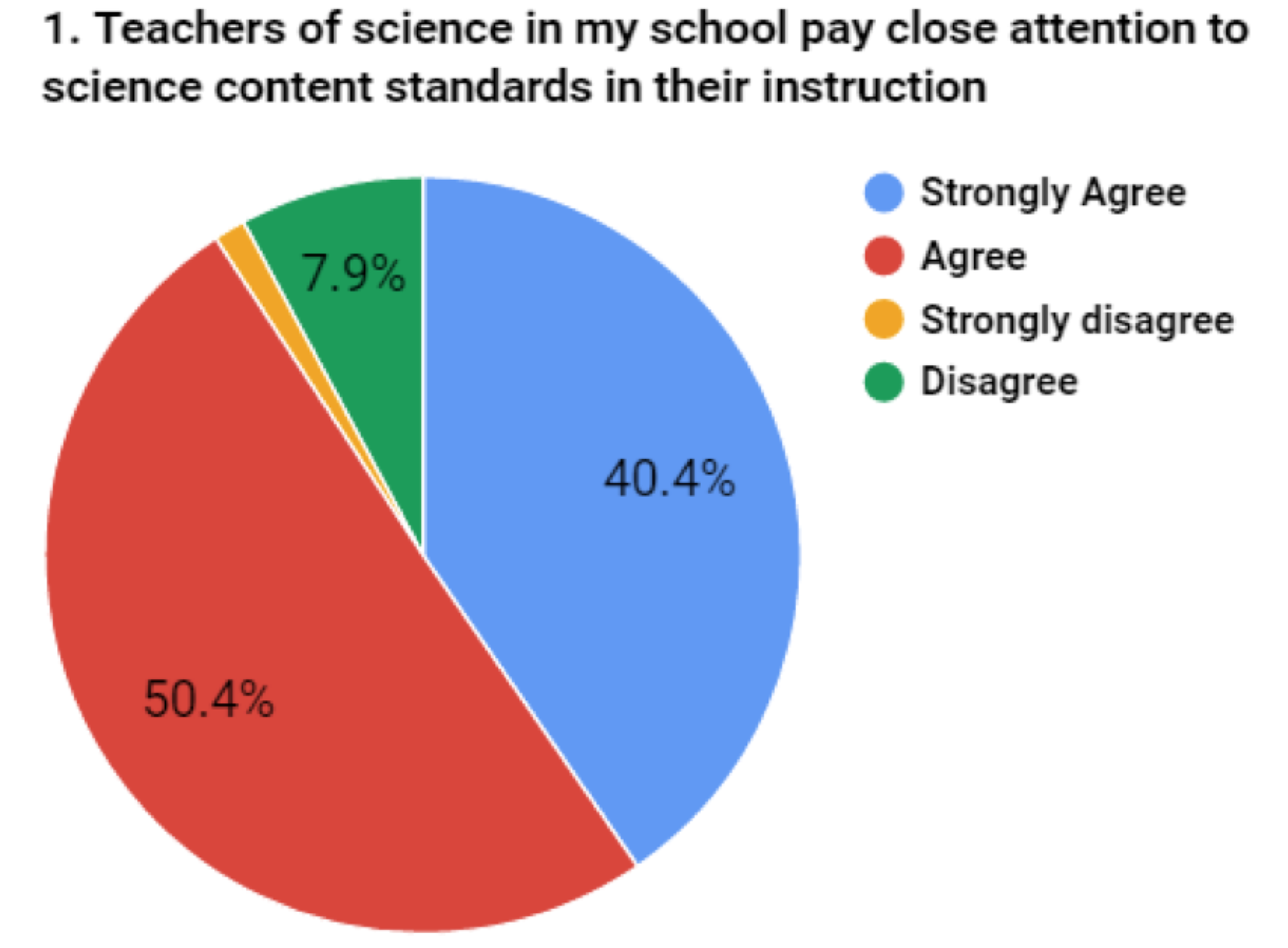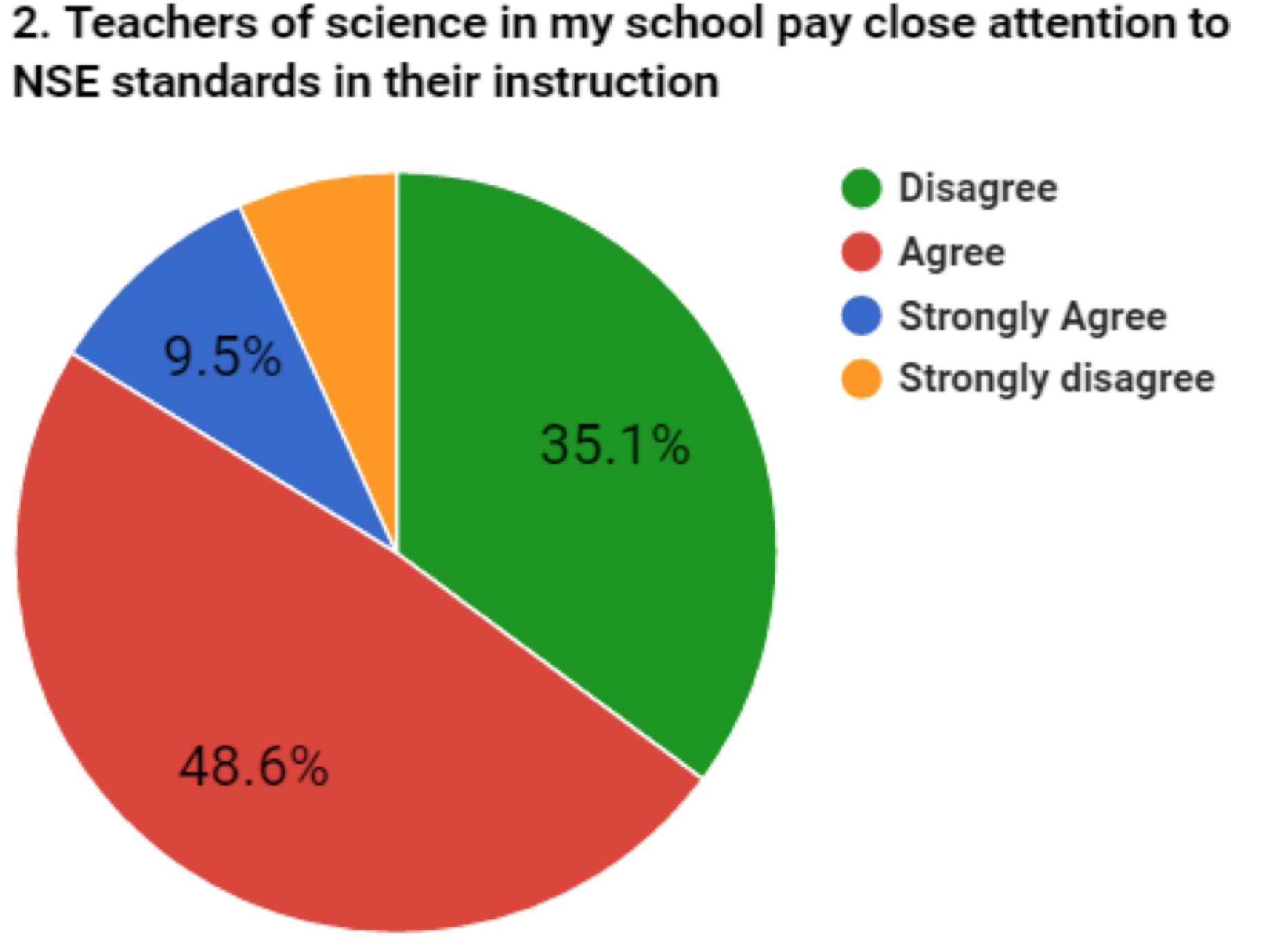 It is encouraging to see that the participants perceive that possibly 90% of teachers are paying close attention to content standards (physical science, life science and earth/space science). However only about 60% pay close attention to the Nature of Science and Engineering standards (NSE). The writers of the 2009 science standards intended that the NSE strand should be of equal importance to the content strands. In the discussions among teachers about factors that influence that practice, they mention that textbooks often emphasize the content concepts and knowledge. NSE concepts are often difficult to assess, especially in written tests, and hence are not as prominent on the MCA.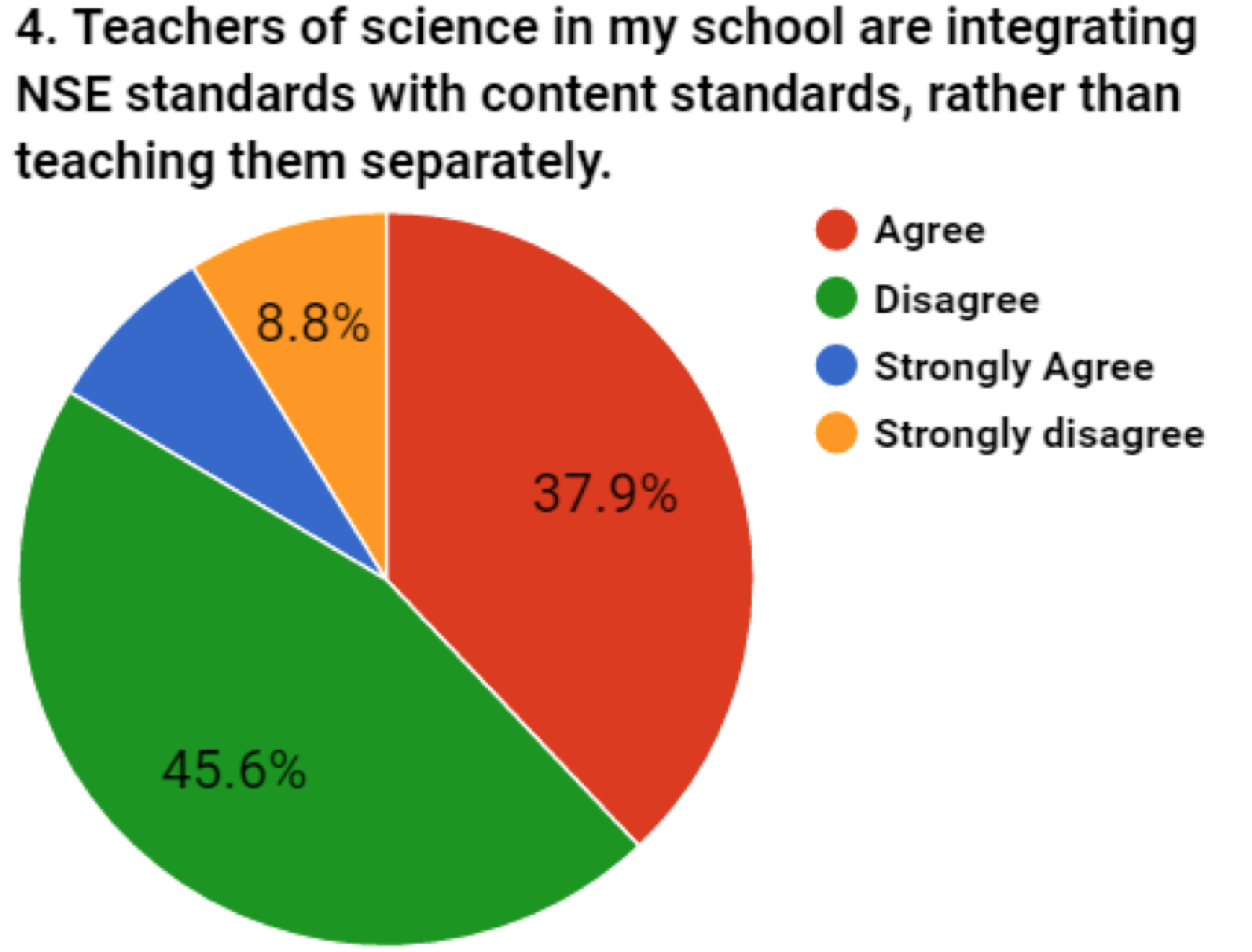 The standards writers also intended that the Nature of Science and Engineering standards should be integrated with instruction in the content areas. The survey indicates that possibly less than half of teachers are implementing this practice. The participants cited the structure of textbooks that often have an initial chapter on science methods, and traditional teaching practices that do not integrate inquiry and engineering design into content instruction.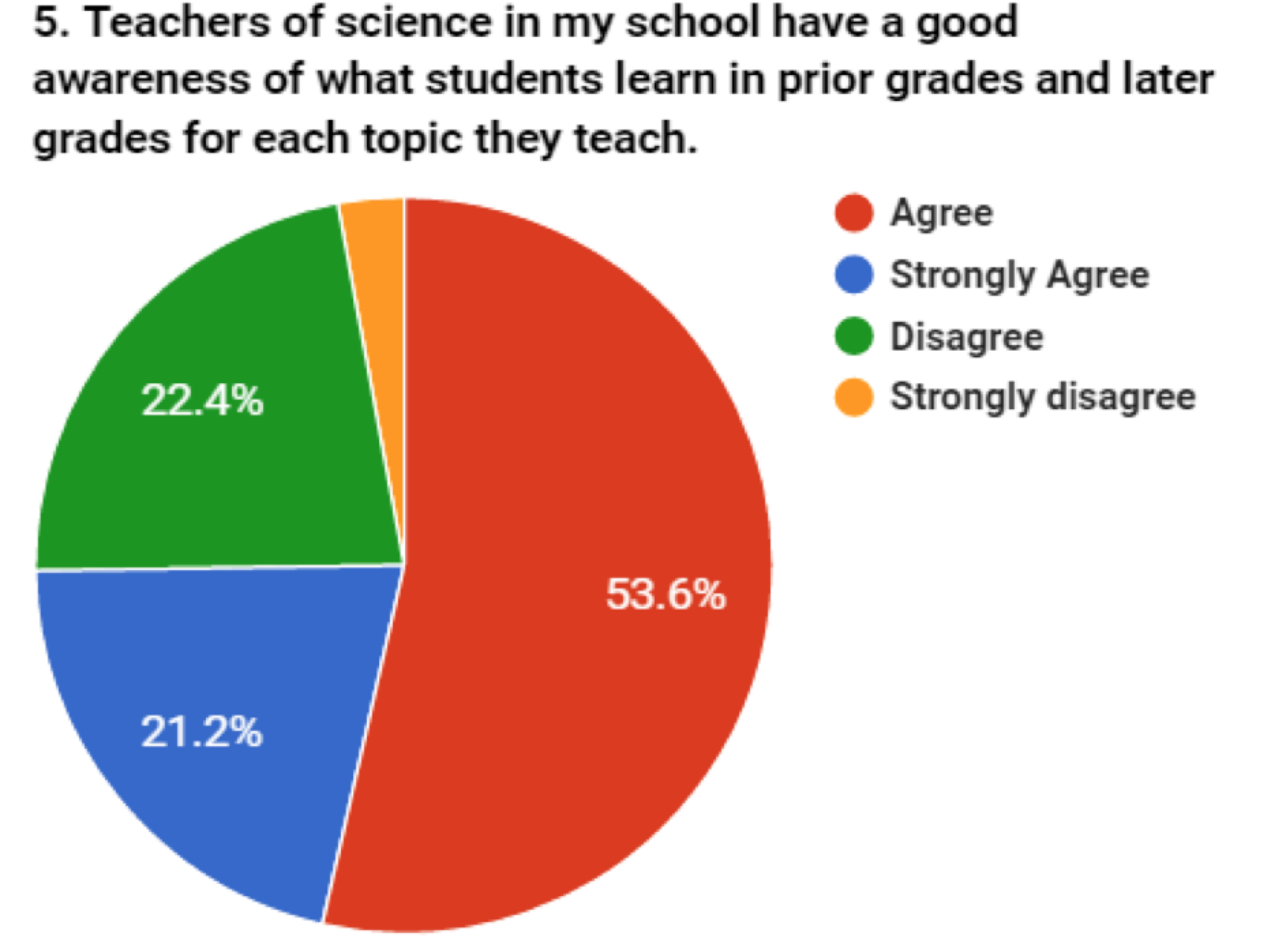 Another area of interest is the perception that about three-fourths of teachers are aware of the learning by their students before and after their grade. This is especially important with the gaps between grades for concepts in our standards. For example after astronomy is taught in third grade it does not reappear until 8th grade.
There were many other questions in the survey and the small group discussions at the meetings. This data will be disaggregated and given to the committee that will review the science standards in 2018-19 and make recommendations for the next set of standards. Encourage your colleagues to participate in the survey and feel free to send your comments and questions to me. John.c.olson@state.mn.us
---
"When will we get new science standards? Will we adopt national standards?
Many people are asking these questions to us at the Department of Education (MDE) and the answer is often different than what is expected. Even though Minnesota was a lead state for the writing of the Next Generation Science Standards (NGSS), it is not a given that we will adopt those standards. There is a process for revising standards that is directed by state statutes. Here is an of overview of how Minnesota will revise science standards.
Why Standards?
Content Standards are foremost a means to provide equitable education. They provide the learning goals for all students so that children across the state and student population have the opportunity to achieve a solid education. This is important for the high mobility of students as they move between schools. The standards provide an coherent progression of learning as students advance through the grades. This is especially important in science where new concepts and skills must build on previous learning.
When?
Minnesota Statute 120B.021 sets the process and schedule for standards review. The science standards will be reviewed during the 2018-19 school year. This is a change that the legislature made last year from the previous schedule of 2017-18 in order to accommodate the writing of health and physical education standards this year.
What are the requirements for standards?
The standards must be formatted with standards that proved broad ideas and benchmarks that specify indicators of learning at each grade K-8 and the band of 9-12. They must include contributions of Native American communities and reflect standards on information technology.
How will they be chosen?
A Review Committee of 20-40 people representing a variety of stakeholders will be formed through an application process.
The Committee will receive input through on-line surveys, town meetings, focus groups and expert reviewers.
The Committee will study current research on effective science education and will evaluate current models for science standards.
The recommendations of the Committee will go to the Commissioner of Education. They could recommend to keep the current standards, make revisions or adopt another set of standards.
The Department of Education will publish the "final draft" of the standards probably in spring 2019. This will be usable by schools to start planning for implementation and for MDE to begin writing the next version of the Minnesota Comprehensive Assessment (MCA). Full implementation of the standards will likely be three to four years later.
The standards become law through Minnesota's Rulemaking process. They do not go to the legislature for approval.
More details of the standards review process are available at the MDE Standards Page.