Helping Students Make Sense of the World Using Next Generation Science and Engineering Practice
 • Join us for a book club and discussion!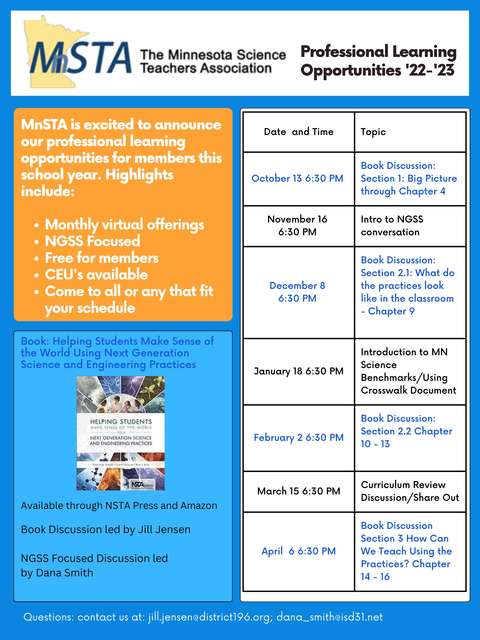 Contact , 
'22-'23 MnSTA Book Club and Professional Development Opportunities
MnSTA is excited to announce our '22-'23 opportunity for members to learn and grow through professional dialogue with colleagues from around the state. We will be alternating between discussing sections from a book and NGSS focused learnings with discussion led by Dana Smith, MnSTA board member and ESTEP Coordinator. CEU's will be available after each event.
MnSTA members are invited to join us for as many sessions as you can and prior attendance at a session is not required.
Book information: Helping Students Make Sense of the World using Next Generation Science
and Engineering Standards
"Provides a play-by-play understanding of the practices strand of A Framework for K-12 Science Education and the Next Generation Science Standards. Written in clear, nontechnical language, this book provides a wealth of real-world examples to show you what's different about practice-centered teaching and learning at all grade levels.
Available for purchase through
NSTA Bookstore:
https://my.nsta.org/resource/105619/helping-students-make-sense-of-the-world-using-next-generation-science-and-engine
Amazon: https://www.amazon.com/Helping-Students-Generation-Engineering-Practices/dp/1938946049
Meeting schedule:
| | |
| --- | --- |
| Date and Time | Book Section /Topic |
| October 13 6:30 PM | Section 1: Big Picture through Chapter 4 |
| November 16 6:30 PM | Intro to NGSS and 3D Learning |
| December 8 6:30 PM | Section 2.1: What do the practices look like in the classroom - Chapter 9 |
| January 18 6:30 PM | Introduction to MN Science Benchmarks/Using Crosswalk Document |
| February 2 6:30 PM | Section 2.2 Chapter 10 - 13 |
| March 15 6:30 PM | Curriculum Review Discussion/Share Out |
| April 6 6:30 PM | Section 3 How Can We Teach Using the Practices? Chapter 14 - 16 |
All meetings will be held over zoom. A zoom link will be emailed out a week before the event. We look forward to connecting with members!
Questions can be directed to Jill Jensen: jill.jensen@district196.org or Dana Smith: dana smith@isd31.net