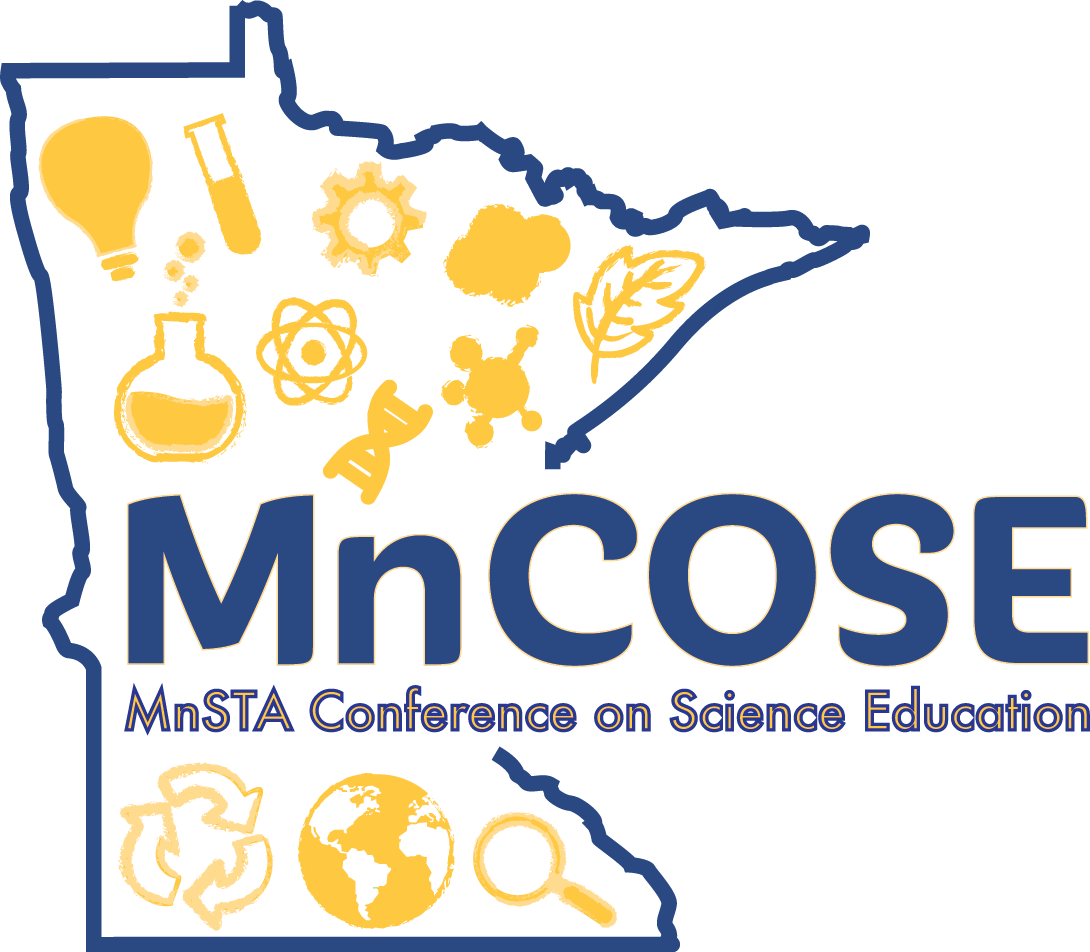 Exhibitor Specifications
MnSTA Conference on Science Education
Rochester, MN, Nov. 10, 2023
We are glad that you are considering supporting Minnesota science and STEM educators by displaying your services at the Minnesota Science Teachers Association (MnSTA) Conference on Science Education (MnCOSE). This document provides detailed information about the exhibit specifications. Other views of the conference and exhibitor opportunities are at:
Location: Mayo Civic Center   Interactive floor map    Mayo CC Exhibitors info
Address: 30 Civic Center Drive, Rochester MN 55904  507-361-5040
The Mayo Civic Center is a major conference center. It is in downtown Rochester and near the Mayo Clinic complex. The MnSTA conference will utilize street level conference rooms. Exhibit spaces will be in the spacious lower lobby adjacent to the session rooms.  There will be dedicated exhibit times, including an extended lunch period. Mayo exhibitor information, resources, restrictions and shipping instructions are at the Mayo Exhibitors website. 
Tentative Exhibit Schedule: Friday,  November 10
Check-in and set-up Thursday 6:30 - 8:00 PM,  Friday 6:30 - 7:30 AM.
Exhibit hours: 7:30 AM - 3:30 PM, Friday. We ask that you be present the entire time.
Participant registration and continental breakfast begins at 7:15 AM. 
Concurrent conference sessions: 7:45 AM - 12:20 PM, 2:00 PM – 3:50 PM.
General Session and keynote is currently scheduled for 9:40 AM with a morning break
90 minute extended lunch and dedicated exhibit time.
Breakfast and lunch for two people are included in your registration. Additional meal tickets are available for a fee at registration.
There will be dedicated exhibit time between concurrent sessions.
Exhibitors are encouraged to provide items for the door prize drawings throughout the day Friday.  Please drop off contributions at check-in time.
Booth Specifications (the exhibit floor map will be posted when it is available):
8' X 10' uncarpeted space with an 8' back drape and 3' side walls
8' skirted table and two chairs
Wireless Internet and electricity are provided and included in the exhibitor rate
Additional booth spaces are available for an additional fee and may be requested when you register with MnCOSE or added later by contacting us.
Whova Conference App and Advertising 

In lieu of a printed program, the conference will use a dedicated conference app to access conference information.
Exhibitor information and contacts are provided on the app, including a logo, a description of services, website links, video links,documents, and exhibitor contact information.  Here is a sample agenda from MnCOSE22
Exhibitors may generate a lead list by scanning QR codes of participants from their name tags or device.
Exhibitors and participants will be able to exchange messages via the app.
A 4.75"(H) X 3.5"(W) color ad in the MnSTA quarterly digital newsletter is included in your registration fee. If you wish to upgrade to a half or full page ad, you may do so for an additional fee.
Presentation Option
Exhibitors may present a concurrent "Exhibitor Session" in which they discuss or demonstrate ideas, and promote their products and resources. See the Exhibits Prospectus for rates.
Sponsorship Opportunities
Organizations/businesses may be Conference Sponsors. The benefits and fees are described in the Exhibits Prospectus.
Organizations may sponsor the morning breakfast, noon meal, keynote speaker, Friday social event, and Saturday field trips. Ask for benefits and rates for these opportunities.
Fees and Registration
See the Exhibits Prospectus for fees and the registration link. There is a $50 increase in the fees after September 24th. 
In the event of a cancellation of the conference, exhibitors will receive a full refund of fees.
Lodging
The conference hotel is the Kahler Grand Hotel. We will have a discounted rate of $114 per night for 1 king or 2 double beds and a parking rate of $8 per day. Go to the Conference Lodging page for details and reservations.